Jamel Shabazz shares his Journey to Documentary Photography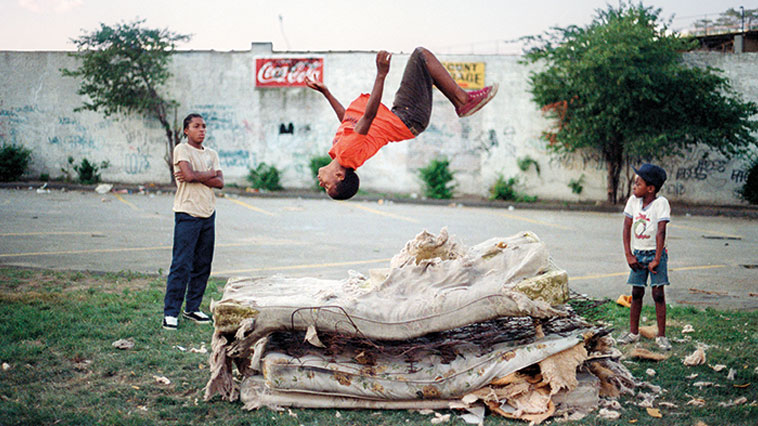 Today's guest on the show is documentary photographer Jamel Shabazz.
Jamel's contributions to documentary photography are applauded the all over the world and in my humble opinion Brother Shabazz the is the Gordon Parks of my generation. I marveled at his work way before I knew his name. You have no idea how happy it made me feel to sit at a chess table in the middle of Brooklyn and kick it with some who has and still inspires me to do my best with my skill set every single day.
We met up in Dr. Ronald McNair Park across from the Brooklyn Museum to talk about growing up in Brooklyn, self publishing vs traditional publishing, his experience in the military, the summer of 1980, striving to capture images that say something profound, the importance of empathy, the crack era and giving back to the community.
As you are listening to this conversation, I highly recommend you pull up Jamel's Instagram, website or flip through one of his many photography books as you listen. It will be a great reference to what we are talking about. I've provided links to it all at NewYorkSaid.com
Side note, we are in the middle of Brooklyn. So, there will be sirens, there will be interruptions and that's what you get when you record outside in New York, it tends to want to be present right there with you.
That's enough intro for one show, please enjoy.
More About Jamel Shabazz
Official Site – http://www.jamelshabazz.com
Instagram – https://www.instagram.com/jamelshabazz/
Shop for Books by Jamel Shabazz
Links to the Stuff they Talked About
The Art of Rebellion: On the Horn with Lady Pink
A few days ago I had an incredible conversation with the "First Lady of Graffiti" Lady Pink. In this episode we talk about her early days of painting trains with elite graffiti writers, proving herself, playing the construction game and mentoring young artists.
Subscribe, Rate and leave on Comment on Apple Podcasts here: New York Said
Stay Up to Date with Lady Pink
Lady Pink was born in Ecuador, raised in NYC and currently resides in the countryside north of the city. In 1979 she started writing graffiti and soon was well known as the only female capable of competing with the boys in the graffiti subculture. Pink painted subway trains from the years 1979-1985. In 1982 she had a starring role the motion picture "Wild Style". That role and her other significant contributions to graffiti have made her a cult figure in the hip-hop subculture.
Show Notes
Finding what you love to do
Do what you do best
The Early Days
Started in 1979
Well Defined Sub-Cultured
Learned about Tagging, Train Yards and Lifting Paint
Jumped Out the Window with a Bag of Paint
Carrying a Big Knife
The Driving Force
Have Adventures
Oh To Be A Rebel
Glory, Props & Fame
Breaking the Law
Prove Your Worth
Hundreds of Young Outlaws

 

Standing Her Ground
The Best of the Best
Traveling the World and Selling Artwork
New York City was in Ashes
First Tag
Proofreading and Spell Checking
Working with a Team

 

Can't Come off Looking Foolish
Quick Story from filming Wild Style
Had to be Seen in Public Painting her own Work
People are going to talk…
Wanted to be an Architect
Up on a Cherry Picker
The Beautiful Brick Women

 

Earth, Wind & Fire
Life Upstate

 

Police Raids
SWAT Team
Stacey Richmond

 

Rob, Pillage and Rape
Hundreds and Hundreds of Cans of Spray Paint
Inspiring the Creative Community
Being Apart of the Fabric of Someone's Life
Working with the Kids
Hand Down the Craft and Skills
Failure is Not an Option
Budding Feminist
Bringing More Women into the Craft
Doing Public Art

 

Working on the Rachael Ray Show
This is America
Playing the Game
Smoke a Big Spliffy and Channel a Dead Artist
John "Crash" Matos talks Graffiti: Message, Medium and a Responsibility to History
Ten days into the new year and we've decided drop a new episode for you, beautiful people. Today's guest on the show is John "Crash" Matos.  Do you live in this world? Do you have sight? Yes? Then I would bet a decent amount of paper that you've seen this man's work.
In this episode Crash and Amon talk about early anime, comics, Style Wars, the adventures of painting trains, shenanigans with Keith Haring, various types of spray paint, spray paints caps and our responsibly to telling the history of graffiti correctly.
Let the record show that is conversation wouldn't have happened without the help of our good friends at the JoAnne Artman Gallery. We are sincerely grateful for their help but we also highly recommend you visit their gallery out in Chelsea. Whenever we art walk, we always stop in to see what's up. Location: 511A West 22nd St., New York, NY 10011
Stay Up to Date with John "Crash" Matos
Show Notes
"

ConcreteJungle

.

"by John "CRASH" Matos
TUMI collaborate with Graffiti Artist John "CRASH" Matos on limited-edition travel collection in 2011

Boogie Down at the Bronx Zoo

(YouTube)

BEHIND BOOGIE DOWN

LEGENDARY ARTISTS X THE BRONX ZOO

Scorpio of the Furious Five

YouTube
Don't sleep on the Bonx here are few notable movies filmed in the Bronx:

The Warriors

,

The Godfather

,

Green Book

,

Rubble

Kings

There was no

Hip Hop

100 Greatest Hip-Hop Songs of All Time

– Rolling Stone
We listened to everything

Led Zeppelin

YouTube

The demons and obsessions of jazz genius Thelonious Monk

by Candace Allen Nov. 6, 2017 The Guardian
Here's a great documentary on Thelonious Monk:

Thelonious Monk: Straight, No Chaser

Earth, Wind & Fire – September

(Official Music Video) YouTube

Boogie Nights

by Lisa Robinson, February 2010 Vanity Fair
"Music and Graffiti go hand in hand." Amon Focus

Kimba

The

White Lion

YouTube

Gigantor

YouTube

Spider-Man

(created by

Stan Lee

and

Steve

Ditko

)
Another quick recommendation, watch the

Spider-Man: Into the Spider-Verse

! (So good)
The Eye in CRASH's work.

Robert Williams

(artist)

Tips

From

a Maestro of the Spray Can

By Jan Ellen Spiegel February 19, 2010 The New York Times
"I zone in." John "CRASH" Matos

Aeroplane

1

John Matos aka Crash
Music is instrumental
Steel Canvases

Art with That Football?

Dolphins' Stadium Vibrant with Color

by Curt Anderson, Associated Press
"… we paint what poets speak." John "CRASH" Matos Quote
"To be played not displayed." John "CRASH" Matos Quote

John Ahearn

(artist)

35 Years

After

Fashion

Moda

, a Bronx Gallery Revisits the Landmark Space

by Tiernan MorganAugust 6, 2015

Don't Forget Fashion

时装

Moda

МОДА

Emily Colucci July 22, 2011

Jane Dickson

(artist)

Charlie Ahearn

(artist)

Wild Style

(movie)

Wild Style

– Trailer YouTube
Graffiti Artist Success for America
The 5 and the 2 train
The 6 trains
Broadway Line
We had keys.
Almost electrocuted and almost hit.
"The paint changed the game." John "CRASH" Matos Quote
Floral paint
Fat cap- go fast line is sharper and thinner
Skinny cap
Niagra Cap
There is more to this…

Dondi

(Artist)

Futura

(artist)

Lady Pink

(artist)

Zephyr

(artist)

HAZE aka SE3

(artist)

TAKI 183 t

alks the History of Graffiti Culture, Classic Cars and the Future of Street Art

Cornbread

(artist)

Roy Lichtenstein

(artist)

Andy Warhol

(artist)
The more you see my name, the more fame I have.

Style Wars

(movie/documentary)

Style Wars

(1983) (whole movie)

New Jack City

(movie)
Last train in 1981

Cey

Adams

(artist) Cey Adams talks Def Jam, Logos, Album Covers, Giving Back, Paintings and Murals
The Lesson is Responsibility
Telling the Truth
Street Art is Bubble

KAWS

– it appears you owe CRASH a drawing.
View this post on Instagram
BlusterOne: The Birth of a PNB Nation, Spirituality and Graffiti
Part 1
Part 2
This episode is brought to you by Peralta Project. Well not officially, I didn't actually speak to Tony and his team but I've love what they're doing over there. I'm a fan of Tony's art and of course I love the clothing. Plus he's been a guest on the show, click here.
When Tony opened up his shop Taller Peralta, he connected with today's guest to paint the front gate. Today's guest is James K. Alicea aka BlusterOne. This is going to be a two part episode. In this episode, Bluster and I talk about growing up in the Lower East Side, his early graffiti days, Rakim lyrics, religion, spirituality, the Five Percent Nation and his introduction to Islam.
Enjoy.
Keep Up with BlusterOne
~~~
~~~
Part 2 Show Notes
How are you trying to grow as a human being?
Dogma
The globe is bigger than the books
Latin communities that are Muslim
Make it to Mecca

The 50 Greatest Streetwear T-Shirts of All Time by Jeff Staples in Complex Nov. 19, 2013

(Just a note tying this all together- Jeff was on the New York Said Podcast too- here's his episode:

Jeff Staple talks Streetwear Ambassador, 20 Years of Staple Design and Reed Space

Post no bills
Hardcore into Stamps
Shout out to Chessa
Racking- stealing supplies for graffiti writing

Behold the Pale Horse

(book) by milton william cooper

The Spook Who Sat

By

the Door

YouTube Full Film
SS3Tony
Kahlil "Zulu" Williams Twitter @sergefc

Yuri

Kochiyama

(political activist)
Roger "Brue" Mchayle Twitter @Brueroc
Issac "West" Rubinstein
Sung Choi Twitter @sungchoi_

Futura

(artist)

48 Laws of Power

by robert greene (book)
Hello my name is…
Phillies Blunt Street Wear

School of Hard Knocks

(visual)
Union
Stussy
West Coast Streetwear

GAT-Gypsies and Thieves

streetwear brand

Freshjive

Streetwear brand
Keds

RockRubber45s Original Poster Art

was done by BlusterOne

'Rock Rubber 45s' Q&A with

Bobbito

Garcia a.k.a. Kool Bob Love

New York Said Episode
Respect for the culture
WBAI FM Third World Cypher Radio Show with BlusterOne and Brue
Lose with the mouth
Quality of Life
We don't want no smoke
Many an L taken
Cool with those who are cool with me
If I have my headphones in that means don't ask me
Amon is giving out fives
That was brought to you by the letter…
Most important lesson thus far is to be about your word. BlusterOne
Honesty
Deathstyles vs. Lifestyles
Forward
Fuse Green Episode:

Gun Pockets: The Triumphs and Challenges of Fuse Green

Tony Peralta Episode:

M. Tony Peralta shares Insight from his Growth as an Artist and Entrepreneur

Leo
Vault of Culture

TMNK – Art is my Weapon

Episode
~~~
This episode is sponsored by Gorilla Coffee.