Jamel Shabazz shares his Journey to Documentary Photography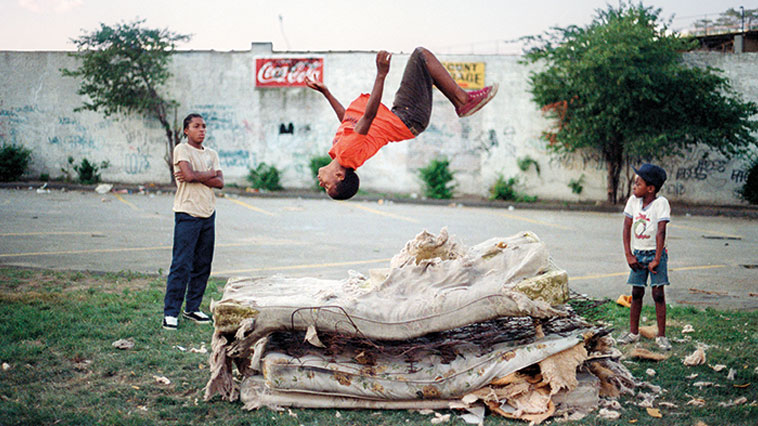 Today's guest on the show is documentary photographer Jamel Shabazz.
Jamel's contributions to documentary photography are applauded the all over the world and in my humble opinion Brother Shabazz the is the Gordon Parks of my generation. I marveled at his work way before I knew his name. You have no idea how happy it made me feel to sit at a chess table in the middle of Brooklyn and kick it with some who has and still inspires me to do my best with my skill set every single day.
We met up in Dr. Ronald McNair Park across from the Brooklyn Museum to talk about growing up in Brooklyn, self publishing vs traditional publishing, his experience in the military, the summer of 1980, striving to capture images that say something profound, the importance of empathy, the crack era and giving back to the community.
As you are listening to this conversation, I highly recommend you pull up Jamel's Instagram, website or flip through one of his many photography books as you listen. It will be a great reference to what we are talking about. I've provided links to it all at NewYorkSaid.com
Side note, we are in the middle of Brooklyn. So, there will be sirens, there will be interruptions and that's what you get when you record outside in New York, it tends to want to be present right there with you.
That's enough intro for one show, please enjoy.
More About Jamel Shabazz
Official Site – http://www.jamelshabazz.com
Instagram – https://www.instagram.com/jamelshabazz/
Shop for Books by Jamel Shabazz
Links to the Stuff they Talked About
Kenny Vera talks Ecuador, LOOT Lifestyle and Poco a Poco
Kenny Vera talks running a small business, launching his LOOT Lifestyle brand, learning new languages and overcoming mistakes.
Keep Up With LOOT
~~~
Show Notes
Being typed as we speak…
~~~
This episode is sponsored by Gorilla Coffee.
BlusterOne: The Birth of a PNB Nation, Spirituality and Graffiti
Part 1
Part 2
This episode is brought to you by Peralta Project. Well not officially, I didn't actually speak to Tony and his team but I've love what they're doing over there. I'm a fan of Tony's art and of course I love the clothing. Plus he's been a guest on the show, click here.
When Tony opened up his shop Taller Peralta, he connected with today's guest to paint the front gate. Today's guest is James K. Alicea aka BlusterOne. This is going to be a two part episode. In this episode, Bluster and I talk about growing up in the Lower East Side, his early graffiti days, Rakim lyrics, religion, spirituality, the Five Percent Nation and his introduction to Islam.
Enjoy.
Keep Up with BlusterOne
~~~
~~~
Part 2 Show Notes
How are you trying to grow as a human being?
Dogma
The globe is bigger than the books
Latin communities that are Muslim
Make it to Mecca

The 50 Greatest Streetwear T-Shirts of All Time by Jeff Staples in Complex Nov. 19, 2013

(Just a note tying this all together- Jeff was on the New York Said Podcast too- here's his episode:

Jeff Staple talks Streetwear Ambassador, 20 Years of Staple Design and Reed Space

Post no bills
Hardcore into Stamps
Shout out to Chessa
Racking- stealing supplies for graffiti writing

Behold the Pale Horse

(book) by milton william cooper

The Spook Who Sat

By

the Door

YouTube Full Film
SS3Tony
Kahlil "Zulu" Williams Twitter @sergefc

Yuri

Kochiyama

(political activist)
Roger "Brue" Mchayle Twitter @Brueroc
Issac "West" Rubinstein
Sung Choi Twitter @sungchoi_

Futura

(artist)

48 Laws of Power

by robert greene (book)
Hello my name is…
Phillies Blunt Street Wear

School of Hard Knocks

(visual)
Union
Stussy
West Coast Streetwear

GAT-Gypsies and Thieves

streetwear brand

Freshjive

Streetwear brand
Keds

RockRubber45s Original Poster Art

was done by BlusterOne

'Rock Rubber 45s' Q&A with

Bobbito

Garcia a.k.a. Kool Bob Love

New York Said Episode
Respect for the culture
WBAI FM Third World Cypher Radio Show with BlusterOne and Brue
Lose with the mouth
Quality of Life
We don't want no smoke
Many an L taken
Cool with those who are cool with me
If I have my headphones in that means don't ask me
Amon is giving out fives
That was brought to you by the letter…
Most important lesson thus far is to be about your word. BlusterOne
Honesty
Deathstyles vs. Lifestyles
Forward
Fuse Green Episode:

Gun Pockets: The Triumphs and Challenges of Fuse Green

Tony Peralta Episode:

M. Tony Peralta shares Insight from his Growth as an Artist and Entrepreneur

Leo
Vault of Culture

TMNK – Art is my Weapon

Episode
~~~
This episode is sponsored by Gorilla Coffee.
Contact High: 40 Years of Hip-Hop Photography with Vikki Tobak
We're back in Brooklyn, DUMBO to be exact and this time we are kicking it with Vikki Tobak. Vikki is a journalist, producer and the author of Contact High: A Visual History of Hip-Hop. In this episode we talk about growing up in Detroit, her photography moment, working with Gang Starr, working at Paper Magazine, interviewing Diddy when he was on the come up and her journey to Contact High.
About Vikki
VIKKI TOBAK is a journalist whose writing has appeared in The Fader, Complex, Mass Appeal, Paper, i-D, the Detroit News, Vibe, and many others. She is a former producer and columnist for CBS MarketWatch, CNN, Bloomberg News, TechTV, and other leading media organizations. Vikki is also the founding curator of FotoDC's film program and served as the art commissioner/curator for the Palo Alto Public Art Commission in Silicon Valley. She has lectured about music photography at American University, VOLTA New York, Photoville, the Library of Congress, and the Museum of Contemporary Art Detroit.
~~~
~~~
Show Notes
~~~
View this post on Instagram
~~~
~~~
Show Notes Continued…
~~~
~~~
We would love to hear your thoughts on the episode. Leave a comment on the Apple Podcast app and don't forget to rate the show.
This episode is sponsored by Gorilla Coffee.