Sundhe Moses: A Conversation about being Wrongfully Convicted Parts 1, 2 & 3
Subscribe, Rate and leave on Comment on Apple Podcasts here: New York Said
What's up good people, welcome to the New York Said podcast. First off, I just want to thank you for your support. As you know, everyone and their mother has a podcast and the fact that you keep coming back to see who I'm talking to week after week means a lot. That's not shade to the growing podcast community, that's just the facts. And I love it.
Today's guest on the show is Sundhe Moses, but I know him as Shine. Shine was wrongly convicted of killing a 4 year girl in Brooklyn and did over 18 years in prison for it. A few years ago he was set free and we had a very in-depth conversation about it. Instead of hitting you over the head with a 3 hour episode. I'm going break it down into 3 parts. This is part one, part two will drop next week and the 3rd and last part will drop the following week. I release episodes every Tuesday unless something crazy is going on and then its Wednesday the latest.
In episode one we talk about growing up in Brooklyn, karate flicks, getting locked up, Rikers Island, How to Survive Prison, wrongful conviction and never losing hope.
In episode two we talk about the system, corruption, a time computation sheet, guilt, shame and examining a person's character over time.
In episode three talk about changing lives, corruption, good people in prison, a way out, getting familiar with basic law, commanding respect and demanding respect.
The last thing I want to say before you I let you go is, if you've been enjoying the New York Said podcast. Head to iTunes or the Apple Podcast app and rate the show. I'm at about 30 ratings at the moment. Let's get it to 50 before the summer gets here. If you've already subscribed and rated the show, thank you. Turns out, I love you.
I'm outta here, see you next week.
Peace.
"Education is not enough to escape the hood or the ghetto." – Sundhe Moses
Show Notes: Part 1
Arrested September 1, 1995 for a crime he did not do.

The concept of time and the importance of its value

Albee Square Mall

, Brooklyn

RUN-DMC – Rock Box

(Video) – YouTube

Full Force/UTFO Roxanne, Roxanne

(Video) – YouTube
3 o'clock karate flicks
What did you want to be when yougrew up?
Amon wanted to be the Ice Cream Man…Never get high on your own supply.
Moral Compass

What is your purpose?

50 Cent

we want you on the show…

They always get it right on TV.
Guilty by association.
How to Survive in Jail or Prision for the first time:
Go to the law library and study your case.
Mind your business.
Keep to yourself.
Don't talk a lot.
Must make an impression you can't be taken advantage of.

Sundhe Moses finally free as prosecutors announce he won't face retrial in 1997 murder case

, By Christina Carrega

Man exonerated for murder he didn't commit is finally free

, By Georgett Roberts, February 16, 2018

JUDGE OVERTURNS CONVICTION FOR BROOKLYN MAN COERCED TO CONFESS BY CORRUPT COP

, By Natalie Duddridge  |  January 11, 2018

Another Criminal Case Linked to Former Brooklyn Detective Gets Overturned

, By Innocence Staff
Never lose hope.
What does 15 yrs. to life in prison mean?
—
Show Notes: Part 2
What's my name?

The Tragedy of Louis

Scarcella

by Albert Samaha, August 5, 2014
What's in a life sentence?
Time computation sheet
The System and Corruption
Wrongful conviction, how do you know?
Guilt and shame exists for a reason.
Examine a person's character over time.
Zebras can't be lions.
No coincidences.
Metrocard?

I'm

Gonna

Git

You

Sucka

(Movie)
Phone power?
Letters are very important.
Forget stereotypes.
"What you think you'll say, what you say you'll do." Common saying as recounted by SundheMoses

Behold a Pale Horse

by Milton William Cooper
—
Show Notes: Part 3
Makes me Wanna Holler: A Young Black Man in America

by Nathan McCall

Still a convicted felon

Get familiar with basic law.

The Constitution of the United States

of America

Money doesn't buy freedom.

We learn through necessity.

A well-armed man with knowledge is very powerful.

"I don't have much faith in people." Sundhe Moses

A lot of disappointment.

Independent thinking-doing for self, can't depend on anyone.

Ask yourself, if you have 150,000 in cash in the house, who could you trust with it while you being locked away 5 years?

You can use me, just don't misuse me.

The best way to support someone is to show up.

Money or ideas

Teaching you how to fish, instead of giving you the fish

The greatest gift you can offer someone is a way out.

Changing lives is the most valuable experience.

Prison is not where they send good people, but there are good people there. – Sundhe Moses

A clear difference between commanding respect and giving respect- Command & Demand Difference

People believe what they see, not what they hear.

Was Sundhe Moses found Not Guilty?
—
We would love to hear your thoughts on the episode. Leave a comment on the Apple Podcast app and don't forget to rate the show.
This episode is sponsored by Gorilla Coffee.
Leopold Vasquez talks Breaking Comfort Zones, the Purpose of Life and the Sound of Art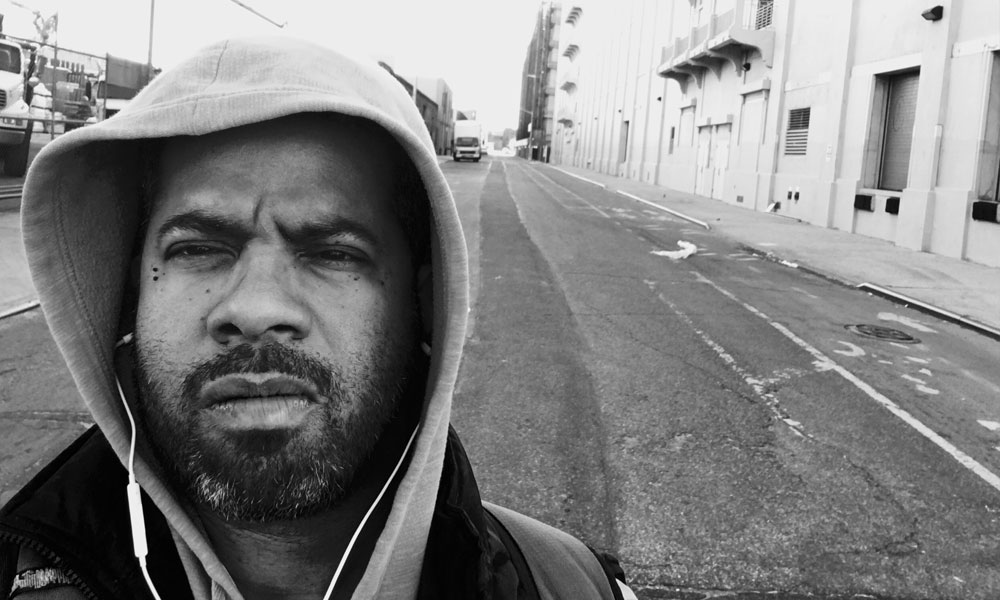 Met up with Leopold Vasquez or Leo in midtown to talk about growing up in Washington Heights, being a wild curious kid, the cultural microscope, demystifying the facade of the art world, being a Social Scientist and empowering the disenfranchised.
Keep Up to Date with Leo
Show Notes
A Refined Tone – Mic Test
Talking to Bluster
Rain influencing Leo's Mood
Growing up in Washington Heights

 

Mad Hills and Parks
A Nice Diverse Community

 

Being a Wild and Curious Kid
Playing with Fire and Getting Torched
Kids say the Wildest Shit
Biting Cousins

 

Drawing anything in Motion
Leo was the Weirdo of the Crew
Had a Producer Vibe to Him

 

Getting Lost in the Uptown Caves
Dark Days (Film)
Finding Arrow Heads
Super Curious and Embrace Diversity
Don't Questions Yourself
Knowing the Difference

 

Utilizing your Cultural Microscope

 

A Child of Immigrants
That's how New York is…
"You're not going to Christopher Columbus this shit…"
Art is a Time Cheat and Cheat of Time
How do we preserve New York history?
"We can all enjoy colors…"
Problems, Solutions and Lives
Demystify the facade of the art world
Two Cents on Black Panther Movie
Being a Social Scientist
Breaking Comfort Zones
Culture Shock

 

Knowledge of Self
Creativity is Problem Solving
Seeing the Sight Unseen
No Point or Purpose to Life
Empowering the Disenfranchised
Meeting his Ego for the First Time
Losing loved ones
"Having cried yet but I want too…"
Ready to Cry
Terrible Memories
Real Life is Not Instagram
It Ain't All Good
Get Flipd
Hard Dopamine Hits
One Time for Chopped Cheese and Beacon Youth Program Students
Chopped cheese is the name of the game because the youth said so! What's up good people welcome to the New York Said podcast, I'm your host Amon Focus.
This week I headed to Metropolitan High School out in the Bronx to talk to some of the kids in the Beacon Youth Program. I was asked to talk about Podcasting. I kept it simple, I showed them the audio equipment but I said the best way to learn about podcasting is to record one… So we did.
If you're a long time listener to the show then you're familiar with the card game I created called New York Said Shuffle, if not then it's simple. New York Said Shuffle is a game where I have the guest shuffle a deck of question cards that I created and then they answered them.
In this episode I played a lightning round with the students. I asked each person in the group one question each and then they flipped the tables then interviewed me.
This is a light fun episode which I really enjoy. Shout to Leo of SOALife for making this episode possible.
I'm out of here, enjoy!
About Beacon Youth Program and Metropolitan High School
~~~
Show Notes
New York Said Shuffle
"I don't do nervous" Jylese Torres
Musical Interludes
Dream Vacation in

Wakanda

Melanie (Student)
Arianna Reyes (Student)
What is

Love

?
Alicia Roman (Student)
Bitter or Sweet?
Unexpected
Speaking to who?
What are you going to be like when you turn 75?
Who is Amon's mentor?
Leanna (Student)
What do you not understand about grownups?
Parents just don't understand…who said that?
What advice would you give your parents?
Diamond (Student)
Ariel Reyes (Student)
Bodega Sandwiches
Yellow

Bodega

down the Block
Dreams interpreted
Madison (Student)
Morning  or Night? (We know The Host is Night Person)
One time for coffee?
One time for

mocha latte

Isiah (Student)
Pineapple on pizza?
Mya (Student)
3 Wishes
So, $1,000,000 is not enough?
Everything free for who?
Mr. Leo
What are you afraid of?
Wait the host is dropping his government…
Favorite word
Eat for free
Hip Hop to instrumentals
T.I.'s new album

Quincy

Documentary Trailer
"Once a task is just begun, never leave it till it's done…" Quincy Jones Quote
"Make It Happen" Amon Quote
Travel
What is your purpose in life?
Put Me on Podcast
~~~
This episode is sponsored by Gorilla Coffee.
Clayton Patterson talks History, Longevity and the Tompkins Square Park Police Riots with
Today's guest on the show is Clayton Patterson. Clayton is a documentarian, an artist, a historian and staple of the Lower East Side. In this episode we talk about how to survive as an artist, the Clayton Cap, the 80s, the forgotten ones, citizen surveillance, documenting history and the Tompkins Square Park police riots.
This conversation was recorded at the Clayton Gallery & Outlaw Art Museum in the heart of the Lower East Side.
This episode is brought to you by Ignacio "Nacho" Fernandez. Show him some love on Instagram.
~~~
Show Notes
Clayton Patterson Documentarian, Artist, Historian & Lower East Side Resident
Clayton Patterson Website

 

Lower East Side
161 Essex
Clayton Camps
Clayton Archive, Outlaw Art Museum & Gallery
You have to survive as an artist.
SoHo in the 80's How New York's Art Scene In The '80s Made NYC What It Is Today
"The game is always not to work." Clayton Patterson
What is the Clayton Cap?
Clayton Patterson Brings Back the Clayton Cap With a Little Help From His Friends– Sept. 12, 2016 by daniel maurer
The cap as a canvas.
Ed Koch former Mayor of New York City from 1978-1989
Interviewing takes you places you never imagine you'd go.
"I am art, and what I do is art" Clayton Patterson Quote
Posses and Crews
BBB Bruce Street Bad Boys
PS20 The Anna Silver School
Front Door Book by Clayton Patterson
The art of giving fame.
You have to say what? P*ssy (Timestamp 11:05)
Create community rather create controversy (in today's terms-Clayton did want no smoke)
Street Gangs of The Lower East Side

 

preview by Clayton Patterson
Satin Sinner Nomads Gangs of the East Village: Life as a Satan's Sinners Nomad by laura edwins and nadja popovich
Jose "Cochise" Quiles YouTube Original air date 5-12-16
Taji's Mahal – Satan's Sinners Nomads' Cochise (VICE article)
Arturo Vega, Ramones Logo Designer, Dead at 65– Graphic artist was a source of support in the band's early years -by erin coulehan (RollingStone Article-June 10, 2013)
Empire Closing Party The Last Interview Screening of Amon Focus' Arturo Vega, the Last Interview, 2013
John Ahearn Artist
Leading as humans
Form of magic in the forgotten ones
The top and the bottom are often similarities
The responsibility of recording history.
Documenting the Tompkins Square riot of '88 by clayton patterson (The Villager Article- August 6, 1988)
Pablo Escobar – Crime Boss
John Gotti – Crime Boss
Nicky Barnes – Mr. Untouchable
Don't antagonize the dog behind the gate.
"Fame has its assets attached to it." Clayton Patterson Quote
The Long, Vital History of Bystander Recordings by emily raboteau (The New Yorker Article – August 11, 2016)

 

LA2 – Artist
Keith Haring – Artist
Jerry Saltz – Art Critic
"We deserve the truth behind our history." Clayton Patterson Quote
The Radiant Baby by keith haring
Barking Dog by keith haring
Three Eyed Television by keith haring
How can you tell the difference between collaboration between Keith Haring and LA2, or just a LA2 or just a Keith Haring? Class is in session.

 

George Braque– Artist
How Beyoncé and photographer Tyler Mitchell made history with her Vogue cover– It's the first time in the magazine's 126-year existence that a black photographer shot the cover- by alex abad-santos Aug 6, 2018 (Vox Article)
Tyler Mitchell – Photographer
Tyler Mitchell: 5 Fast Facts You Need to Know | Heavy.com
JEWS: A PEOPLE'S HISTORY OF THE LOWER EAST SIDE by Clayton Patterson (book)
TRON Graffiti Artist
No documentation then it didn't exist.
"Little Brother is Watching Big Brother" Clayton Patterson
The Democratization of the News
Captured by Clayton Patterson (Trailor)
The importance of a camera
Special Guest @CharlesAllBlue (IG)
OverLook designed by Ali the Creator
Only The Wise Streetwear brand
The 7's on Clayton Patterson's door
Worthy questions to ponder
Daniel B. Levin Director, Producer, Cinematographer
Mark Benjamin, Documentary Filmmaker
Preserving the history and passing it on.
Showing up and doing it!
Agosto Machado Performer

 

(Nightlife Icon Agosto Machado Talks La MaMa, Good Luck and His Anderson Cooper Fantasies by michael musto

 

June 2017 Paper Article)
The system as always a step ahead.
What really gentrified downtown NYC?
Ai Wewei Artist
Spike Lee American Film Director
The Oprah Effect
Want to Watch the Episode of Anthony Bourdain Parts Unknown with Clayton Patterson appearing?
Here's the details : 'Lower East Side (November 11 special extended episode 9pm-10:15pm ET) Bourdain takes a personal journey through this formerly bohemian New York City neighborhood, as he meets, shares meals and reflects with music, film and art trailblazers including Richard Hell, Deborah Harry and Chris Stein, Lydia Lunch, Fab 5 Freddy, Danny Fields, Amos Poe, Jim Jarmusch, Kembra Pfahler, John Lurie, Clayton Patterson and Harley Flanagan, whose collective cultural

 

impact in the 1970's and '80's has sustained through the decades.'
The moments of enlightenment and change
Clayton Patterson and the History of Tattooing in NYC by taji ameen a Vice Article March 2013
The desire to documenting and preserving culture
"The Lower East Side used to represent authenticity." Clayton Patterson Quote
Silver Monuments Works Inc.
Jim Power aka Mosaic Man
Tompkins Square Park Riots
30th anniversary of Tompkins Square Park riot: 'It was a battle we had to fight' by michael ccotto

 

|

 

August 7, 2018 @2:23 PM Spectrum News NY1 Manhattan
David Dinkins – 106th Mayor of New York City
Michael Bloomberg – 108th Mayor of New York City
The Forgotten Ones
The Pop Up Culture
Always being alert
The Wave
When everyone loves you.
"Be in it for the love, the experience and the passion" Clayton Patterson Quote
~~~
We would love to hear your thoughts on the episode. Leave a comment on the Apple Podcast app and don't forget to rate the show.